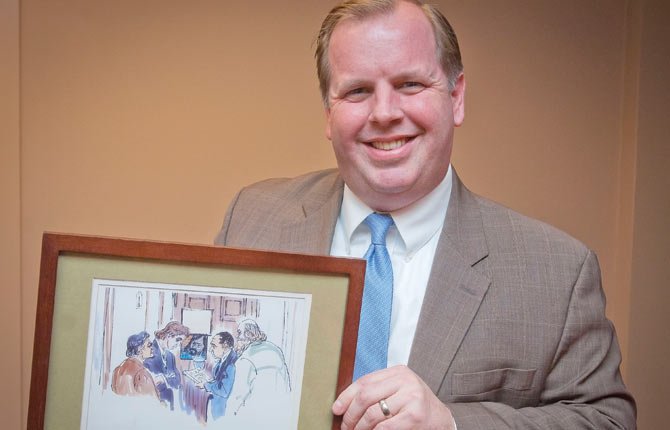 As of Thursday, December 26, 2013
Hanging on the wall of Rob Raschio's law office is a forensic artist sketch of Charles Manson standing behind a wooden door in a California courtroom with a wire mesh opening in front of his face.
He is depicted in the rendering with his legal team gathered around the door, which has a hinged panel that can be dropped over Manson's face if he begins to create a disturbance.
"He didn't get to face his accusers," said Raschio.
Manson — diagnosed with anti-social disorder and other mental illnesses — led a cult in California and was convicted in 1969 of conspiracy in seven murders, including those of actress Sharon Tate and her unborn child. Although he did not personally commit the acts of violence, a jury found Manson guilty of masterminding the grisly deaths.
"I have a hard time imagining how a man in a cage can get a fair trial," said Raschio, who obtained the drawing from a friend after the Tate family auctioned it in April 2007 as a crime victim benefit.
Raschio, a shareholder in the gorge firm of Morris Smith Starns Raschio and Sullivan, is leaving The Dalles to serve as the lead defense contractor for criminal cases in Grant County and conflict cases in Harney County.
The Manson trial setting is a constant reminder to him that no matter how horrific the crime that someone is accused of, they are guaranteed the right of due process by the U.S. Constitution.
"Sometimes I tell my clients to exercise their right to remain silent, meaning their right to 'shut up,' but I have relaxed enough after 12 years in this field to realize that if they insist on speaking out, they are exercising their right to protest," he said.
If a mentally ill person manifests symptoms of his or her illness in the courtroom, Raschio said jurors need to remember that America's judicial system rests on the premise that all people are innocent until proven guilty.
Read more here:
http://www.thedalleschronicle.com/news/2013/dec/26/protecting-rights-accused/